Information about the links or groups of links shown below.
The North West Province attracts most of its visitor for 2 reasons; 5 star casino resorts and the bush experience.

MUST SEE.........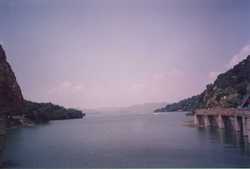 Hartbeespoort Dam is one of the most popular tourist attractions. Besides the water sports you can enjoy a trip up the Cableway to the top of the Magaliesberg, the mountain range along which the dam is situated. There are also a snake and animal park,bird sanctuary and hiking trails.
Visit our other establishment for a romantic getaway
The Farm House Hartebeestfontein
Getaway and explore the Magalies Meander of Gauteng and North West Province when you stay at The Farm House Hartebeestfontein.
At the foot of the legendary Magaliesberg lies the privately owned Farm House, a perfect setting to experience a romantic weekend. This intimate and secure cottage is in the Hartebeestfontein Conservancy and is the ideal location from which to explore the array of local attractions that the area has to offer.
For those who want to splash out on additional entertainment for their own account there are many things to do: nature enthusiasts will appreciate the abundance of wildlife and scenic splendours, cultural excursions, guided walks and boat cruises.
For those who prefer the relaxing sound of birdsong will love the indigenous gardens of The Farm House.The area is home to world class golf courses, breathtaking hiking trails and a wide variety of horseback riding trials.
This Farm style Self Catering accommodation has exceptionally beautiful views of the surrounding Magaliesberg Mountains on 6 hectares, offering a tranquil getaway for the city slicker.

Request a booking
Favorite Places To Visit In The Area
Welwitchia Country Market If it's African crafts that you are after, this is the place to find them.
Cradle of Humankind The Sterkfontein caves are one of the richest and most productive palaeo-anthropological sites in the world. Amongst the most remarkable findings have been Mrs. Ples, the first Australopithecus skull to be found and more recently "Little Foot", a 3.3 million year old almost complete apeman skeleton which was discovered in the same caves. The caves have recently been awarded with "World Heritage Site" status.
LESEDI CULTURAL VILLAGE Multi cultural village in bushveld and rocky hills. An adventure that reveals the mystical cultures of the people of Africa, their tribal folklore and ancestral traditions.
SUN CITY AND THE LOST CITY Sun City and Lost City are world famous leisure resorts. There are four hotels and two golf courses available. This is home to the richest golf tournament in the world- "The Sun City Million Dollar Classic".
PILANESBURG GAME RESERVE The fourth largest park in South Africa is located in a 1 200 million year old extinct volcanic crater. The park supports over 8000 head of game including the Big Five.
CONTACT
Contact person Jenny
Phone/Fax : +27116738003
Mobile : +27834410735
E-mail : wforster@telkomsa.net
PO BOX 2638, CRESTA, SOUTH AFRICA, 2118